For Home from Home Dog Boarding and Daycare for your precious pets.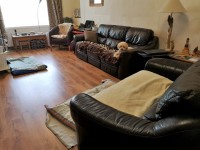 When only the best will do!
For home from home Dog Boarding & Daycare for your precious canine friend, whilst you enjoy your holiday without any worries, look no further than Dalavon Doggy Daycare - where your dog will be treated as one of the family, whether it's for short, or long stays with us.
Dogs have always been part of our family, and your dog(s) will be treated the same, with lots of love and attention, and home comforts too. Our home is dog friendly, with a secure walled garden. We have lovely walks nearby - very dog friendly, with lots of places to explore.
Sadly, all of our own dogs have passed away, and so we now choose to be "Dog Grandparents" to all the dog guests who stay with us.
Licensed for peace of mind
We are fully Council Licensed by Neath Port Talbot County Council, a requirement for all Home Boarding and Kennel Services (and for most other UK Councils too).
How It All Began
Our love of dogs started over 35 years ago when we had our first Rescue dog, and after that came our passion & love of Dalmatians & Chinese Crested Hairless dogs.
For a few years, we volunteered with Dalmatian Rescue, vetting homes, and fostering Dalmatians (to assess them before they went to their new homes).
Most of our dogs have been from Rescue Organizations, and over the past 35 years, we have fostered (temporarily & permanently) many dogs, including Crossbreeds, Belgian Shepherd, Spaniel, Chinese Crested & Dalmatians, (one of whom was blind from birth), All went on to permanent loving homes.
I have been a trainer at several Dog Obedience Training Clubs in past years, and competed with my dogs Sam & Cid, in Obedience Competitions. I have also shown Cid, one of our Dalmatians, and Lennie, our Chinese Crested, at Breed Shows (including Crufts) in the 1990's.